September 2010 – J2L Events Introduces TopTravelShows.com
Jeremy Garrett's new events management company J2L Events LLC has now opened a uniform website TopTravelShows.com to highlight all of its travel events.


August 2010 – J2L Events Manages Inaugural OneWorld Travel Mart
Jeremy Garrett's new events management company J2L Events LLC has now begun management of a May 2011 OneWorld Travel Mart, which will be held in San Francisco, California.


June 2010 – J2L Events Manages Philadelphia Inquirer Travel Show
Jeremy Garrett's new events management company J2L Events LLC has now begun management of a 2011 Philadelphia Inquirer Travel Show, which will be held in downtown Center City Philly.

March 2010 – J2L Events Manages Boston Globe Travel Show
Jeremy Garrett's new events management company J2L Events LLC just completed work on the 5th Boston Globe Travel Show, to great success. With 22,000 attendees (20,000 consumer and 2,000 trade), 300 booths and more than $5 Million in on-site bookings, the Boston Globe Travel Show is now the most-attended and number one consumer booking travel show in the U.S. J2L Events is now starting development of the 2011 show.

December 2009 – NaTour Principal Speaks on Marketing in Nicaragua
In early December, Jeremy Garrett was a presenter at the 5th Conferencia Mesoamericana de Turismo Sostenible, where he spoke in general about marketing efforts, but specifically on how to be more effective in trade show marketing. Presented by the MesoAmerican Ecotourism Alliance, the event was held in beautiful Granada, Nicaragua, and he had the opportunity to meet many enterprising new companies from Central America, as well as to tour some local ecotourism efforts in the region.
May 2009 – NaTour Principal Starts New Events Management Company
It was a busy spring for Jeremy Garrett. After completing work on the Atlanta Travel Expo, New York Times Travel Show and Boston Globe Travel Show early on, he thought he was going to start some new promotional work in the Caribbean. However, like most other industries right now, the economy played a major role in stopping this opportunity. So instead, Jeremy and several other partners founded a new events management company called J2L Events LLC.
J2L Events has been chosen by the Boston Globe to continue working on the 2010 Boston Globe Travel Show, which is now the LARGEST consumer-attended travel show in the U.S. J2L Events has also partnered with Pathfinders Travel Magazine to support the Pathfinders Travel Pavilion at the 24th Philadelphia International Art Expo, the LARGEST art exposition in the U.S. Other clients and events will be announced shortly.

October 2008 – NaTour Welcomes New Associate in Tourism Branding
NaTour Communications is pleased to welcome a new associate in tourism branding, logos and tagline development: Eric Swartz, president of Great Destinotions, a branding agency dedicated to building, renovating, and promoting the brand identities of towns, regions and destination marketing organizations involved in promoting tourism, recreation and economic development. Eric's projects have included brand auditing, brand assessment and analysis, strategic positioning, message development, logo and tagline development, advertising, and direct response. Clients have included Tri-Valley, CA; Russian River Valley Winegrowers Association, CA; Longview, TX; and Marathon, FL; as well as American Express, Apple, Emory University, FedEx and Wells Fargo.

Eric has been a branding and marketing professional for more than 30 years on both the client and agency side. He started his career as an advertising copywriter, and worked as a grants writer and TV writer/producer (TravelTime) before serving in senior marketing and communications management positions at SPRINT, Ziff Communications, and The Thomson Corporation. He founded his agency in 1996. Eric is a recipient of a writing award from the Council for The Advancement and Support of Education, and has been featured in BusinessWeek.com, Meetings & Conventions Magazine, and USA Today. Eric earned his A.B. in Communication & Public Policy from U.C. Berkeley and his M.A. in Communications from The Annenberg School for Communication at the University of Pennsylvania.
Welcome, Eric, and we look forward to a prosperous relationship and additional options to service NaTour's clients!
September 2008 – NaTour Principal Conducts Workshop in California's Napa Valley
Jeremy Garrett has been asked to conduct a workshop at the 2008 Beyond the Gateways Conference (formally The Rural Tourism Conference), presented by the California Travel Industry Association. His topic will be "Defining Nature-Based Opportunities", so he will cover how communities can create a successful nature tourism program in the context of partnerships, resource assessment, and interpretation through specific examples. He will be joined by his long-time associates Bob Garrison of Nature Tourism Planning, and Bob Barnes, with whom he is currently assisting on a Nevada nature tourism project.
In other news, NaTour has been continuing work on our ongoing project in the Dominican Republic with the Organización Dominicana de Turismo Sostenible (ODTS). We are currently reviewing standards and guidelines for various types of tourism activities taking place in the country.
March 2008 – NaTour Principal Keynotes Workshop
Jeremy Garrett has been asked to conduct a keynote presentation on ecotourism and a subsequent marketing workshop for Dickinson State University in southwestern North Dakota (The Badlands) on March 18. This is an honor for Jeremy's first visit to the state.
December 2007 – NaTour Finalizes Audubon Missouri Report
No -- we're not dead -- just extremely busy!! NaTour Communications has been working diligently since August 2007 on a unique and innovative project for Audubon Missouri, to promote the nature tourism opportunities found in and around the Mississippi River Confluence near St. Louis, MO.
You can always view our blog at the website planeta.com, which we post to fairly regularly to provide interesting insight into the life of a nature tourism consultant and our current projects.
And finally, we tracked down this 20-minute podcast that Jeremy Garrett conducted with his associate Tim Warren of Adventure Biz Success in early 2007. It is in MP3 format at about 5MB: Exploring Our Cultural Differences and should open immediately in your media player, such as Windows Media Player.
January 2007 – Jeremy Garrett Joins Board of New Cultural Nonprofit
NaTour Communications principal Jeremy Garrett has joined the new cultural nonprofit Angel Conservation, whose mission is to create, develop, document, support and work with programs / projects that conserve and preserve the cultures of indigenous peoples, native floral / fauna species and the natural environments that gave them life. Our goals are achieved by working shoulder to shoulder with the indigenous people and with national and international cultural and environmental specialists, institutions and organizations, to provide the resources and programs for education, research and the restoration of cultures and lands.
September 2006 – New Book Available on Integrated Rural Tourism
NaTour Communications associate Todd Comen has just released the book Integrated Rural Tourism: Weaving Low Impact Tourism Into the Economic Fabric of Rural Communities. To order the book ($15 for CD version or $25 plus $3 S&H for hard copy), contact Todd at info@integratedtourism.com.
June 2006 – Rural Tourism Development in Dominican Republic
NaTour principal Jeremy Garrett has joined an international team effort to develop a sustainable tourism plan for rural communities in the Dominican Republic. We'll share more about this exciting opportunity in the near future.
February 2006 – Coordinating Travel Trade Shows
NaTour principal Jeremy Garrett served as Conference Manager for three travel tradeshows this spring: the New York Times Travel Show, Boston Globe Travel Show, and Miami Herald Travel Experience.
November 2005 – Moderator of Planeta.com Forum
NaTour principal Jeremy Garrett moderated An innovative forum on Planeta.com on Interpretive Program Development. The forum included several great topics and fostered lots of discussion.

Developing Infrastructure for Sustainable Tourism
Finance for SMEs
Private sector/Public sector collaboration
Communities and SMEs
Marketing and Market Development
Triple Bottom Line Business Structures and Strategies
Interpretive Program Development
October 2005 – NaTour Principal Quoted in Recent Article
NaTour principal Jeremy Garrett was quoted in the Puget Sound Business Journal on the topic of the rise of community-based and volunteer tourism. Visit http://seattle.bizjournals.com/bizwomen/seattle/content/story.html?story_id=1173294 for the full article.

The article is a good description of the Seattle-based tour operator Crooked Trails, with whom Jeremy has worked in the past.

In perhaps one of his best newspaper quotes ever, Jeremy says: "People want to do more than sit on the beach and drink mai tais. They want to learn."

Crooked Trails further received some great public exposure on their local KING-TV Evening Magazine Show. The 5-minute episode, which aired Nov. 11, 2005, features their Peru program, but more importantly it shines a strong spotlight on the importance of traveling with respect and giving back; not only for the communities which are visited, but for the visitors as well.

View the video at http://www.crookedtrails.com/video.htm. Please allow several minutes for the video to download before it starts playing. The Real Player version may not appear to be working at all, but will appear after a few minutes.
April 2005 – Sustainable Marketing Report Produced
The United Nations Environment Programme (UNEP) produced a report on Marketing Sustainable Tourism Products: Challenges and Opportunities to which NaTour founder Jeremy Garrett contributed thoughts and ideas currently impacting the travel industry.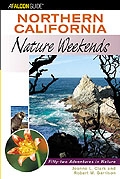 January 2005 – NaTour Associate Publishes Book
NaTour Associate Robert W. Garrison of Nature Tourism Planning has had a recent book published on Northern California Nature Weekends with Jeanne L. Clark. This book details 52 great weekend getaways in California – from excursions for the serious naturalist to casual outings for the whole family. Congratulations Bob!
The book retails for $14.95 and is available from Globe Pequot Press.
November 2004 - European Appearance
Jeremy Garrett, NaTour Communications' principal, has been invited to speak at the Euromeeting 2004, hosted by the United Nations Environment Programme (UNEP) and Assembly of European Regions (AER). This one-day workshop, set for 5 November 2004, will discuss tourism and sustainable development within the European regions, and specifically how to market sustainable tourism products.
January 2004 - Upcoming Tradeshows

Look for Jeremy Garrett, NaTour Communications - principal, at the following tradeshows:

- 18-22 February 2004, 2004 Outside Show and IATOS World Congress, Chicago, IL

- 27-29 February 2004, 2004 New York Times Travel Show, New York City, NY