| | |
| --- | --- |
| | |
| Centrally located within Mexico, the state of San Luis Potosí offers its share of adventure sports activities, historical silver towns, and even the surreal. Containing a broad mix of habitats – dry desert scrub with unique cacti, semitropical climates replete with deep blue springs, lush tropical valleys known in pre-Colonial times as an "earthly paradise," and even splendid cities from viceroyal times, San Luis Potosí is an ideal destination for the adventure and ecotourist. | |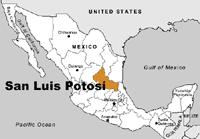 Lying north of Mexico City, San Luis Potosí is mostly dry and has the high altitudes of the western Sierra Madres, except in the east, where the land drops down into tropical valleys near the Gulf Coast. Within this rugged geography, silver was discovered in the late 1500s, providing the state's main economic base, along with cattle ranching.
A new kind of economy is arising in San Luis Potosí, based on vast tourism opportunities. One destination that is tying the past with the present is Real de Catorce, a reborn ghost town that once was an important silver mining town with a population of 40,000. Hidden high in the Sierra Madre Oriental, the only way to access the town is through a 1.5 mile (2.5 km) tunnel. The town is slowly reviving as a unique tourist attraction that gives visitors an opportunity to see what life in a mining town was like, including visits to the mines.
Located between the desert and the eastern border is a semitropical area perfect for inland diving, camping, swimming, mountain biking and spelunking. Chief among these sites is the Media Luna, a spring of deep blue water with a visibility of 30 meters and a temperature of 28° C year-round. You also may with to visit the nearby grotto of the Cathedral, which receives its name from the calcareous forms resembling a pulpit, altar and prayer stool. The entrance to the grotto receives natural light through its vaulted ceiling.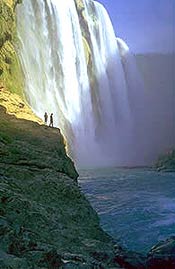 Located amid the western Sierra Madres, in the southeastern corner of the state, is the Huasteca Potosína, an area perfect for river-rafting, kayaking, mountain climbing, mountain biking, camping and spelunking. Covered with lush tropical vegetation, and bathed by countless rivers and lagoons, the Huasteca is home to the extremely impressive Tamul Falls, which drop for 344 feet and are as wide as 1000 feet in the rainy season.
If you're not afraid of heights, maybe you'll want to tackle the Sótano de las Golondrinas (the Swallows' Basement), one of the deepest abysses in the planet at 300 meters deep and 60 meters in diameter. Adventurers can rappel into the void and witness the amazing morning spectacle of thousands of birds called "Vencejos" flying from the depths of the abyss in an enormous spiral colored by Quilas (Huastecan parrots).
Also located within the Huasteca is El Consuelo, an archaeological area that gave origin to the Huastecan culture. One of the region's many archaeological sites, El Consuelo features stone altars and consists of several mounds arranged around ceremonial squares.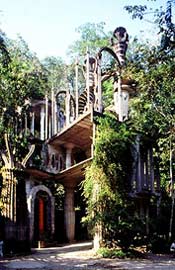 Finally, no trip to the Huasteca would be complete without visiting the surreal and unusual Las Pozas of Sir Edward James, an English aristocrat. Located in Xilitla, James' fantastic jungle estate reflect "architecture fused with nature," seemingly pulled from a painting by artist Salvador Dalí. The castle and grounds include hundreds of surrealist metal and concrete sculptures scattered among tropical vegetation, waterfalls and weaving footpaths.
If you're interesting in exploring Mexico's past, you've got to add the city of San Luis Potosí itself to your itinerary. Strolling through the historical downtown and its three main squares, you can still admire the years of splendor and wealth of viceroyal times. Notable sites include Templo del Carmen, a spectacular Churrigueresque church that was built in 1743, and the ex-Convento de San Francisco, an extensive former convent with a museum showing colonial and pre-Columbian exhibits amidst its splendid chapel.
San Luis Potosí offers so much more that can't even be mentioned - you'll just have to come discover it for yourself! To learn more about this state and the rest of the undiscovered "Mysteries of Mexico," attend the upcoming Expo Aventura y Ecoturismo in Mexico City from June 3-5, 2004. International buyers can attend the exposition at no charge. Openings also are still available to attend the Expo and the accompanying FAM/Media Trips; contact Fernanda Aldana (faldana@tradex.com.mx) at Tradex Exposiciones for more information.