| | |
| --- | --- |
| | |
| Offering a variety of landscapes – from rugged mountains to fertile plains and valleys to sunny beaches and coastlines – Oaxaca (pronounced "wa-HA-ca") can easily satisfy the desires of most adventure and ecotourists. Located south of Mexico City along the Pacific Ocean, Oaxaca is known for its colonial towns, archaeological sites, handicrafts and cultural gatherings, and bird-watching opportunities. The state is also home to 15 indigenous groups – the largest of which are the Zapotecs and Mixtecs – who show a strong presence in villages and markets. | |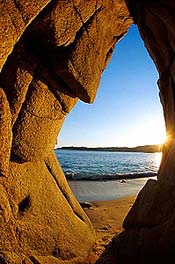 Although Oaxaca provides 300 miles (480 km) of coastline, very little has been developed, offering a mostly undisturbed, unspoiled tropical experience among sleepy little fishing villages. The best-known of the beach destinations is Huatulco, which is still not as developed as Acapulco to the far west. Swimming, surfing and other water sports are of course possible, but you'll also want to explore the crocodile sanctuary and freshwater lagoons west of Puerto Escondido, as well as view the different endangered turtle species that lay their eggs along the beaches.
Moving north from the coast, you'll encounter the state's Central Valleys that surround the capital city. Here you'll find plenty of opportunities to hike, mountain bike, ride horseback, bird watch, visit craft shops or even participate in different cultural fiestas, ceremonies or dances singular to the region.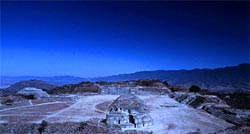 One of the region's chief attractions is Monte Albán, which sits atop a 1315-foot (400 m) mountain overlooking the Central Valleys. Considered the greatest of the Zapotec cities, Monte Albán is an amazing engineering feat, where the people leveled the whole mountain top to create the site. The plateau contains many complete buildings, tombs, platforms and stelae. Other notable archaeological sites in the region include Mitla and Yagul, to the east of Monte Albán.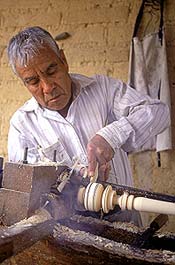 From the Central Valleys, your next stop might be the colonial Oaxaca City itself, whose narrow streets, historic buildings, broad shady plazas and leisurely cafes will allow you to simply slow down and enjoy yourself. Offering first-class museums and art galleries, Oaxaca also provides some of the best handicrafts shopping in Mexico, complemented by a bright cultural, restaurant and music scene.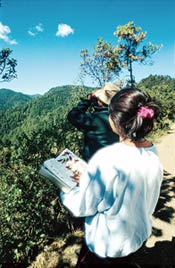 North of Oaxaca is a region replete with small charming villages such as Guelatao (the birthplace of Benito Juarez) and Ixtlán, which are surrounded by the beautiful, mountainous landscapes of the Sierra Madre de Oaxaca. This region is among the three richest areas in faunal diversity in the country, with more than 400 bird species, 350 butterflies, all six Mexican wild cats (including jaguar), and nearly 4,000 plant species. You can experience this unique region by hiking or mountain-biking along more than 100km of scenic trails. At the end of a rewarding day, you might wish to visit the community Cuajimoloyas and sample a Temascal ­ an herbal pre-Hispanic vapor bath.
You never know what you'll discover when you wander down Oaxaca way. To learn more about this state and the rest of the undiscovered "Mysteries of Mexico," attend the upcoming Expo Aventura y Ecoturismo in Mexico City from June 3-5, 2004. International buyers can attend the exposition at no charge. Openings also are still available to attend the Expo and the accompanying FAM/Media Trips; contact Fernanda Aldana (faldana@tradex.com.mx) at Tradex Exposiciones for more information.