| | |
| --- | --- |
| | |
| Located in eastern Mexico, bordering both Guatemala and the Gulf of Mexico, the oil-rich state of Tabasco provides a wealth of timeless traditions. The varied landscape is traversed by mighty rivers, and dotted by lagoons, swamps and jungle, all of which offer great opportunities for adventure and ecotourism. The landscape also contributed to the development of two of Mesoamerica's greatest civilizations – the Olmecs and Mayans. | |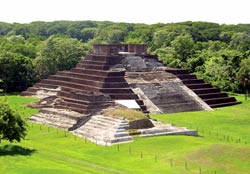 The capital of Villahermosa is located along Rio Grijalva, and flush with tree-shaded boulevards and parks. The Parque-Museo La Venta is a combination tropical zoo and outdoor museum, which was founded with huge Olmec statues relocated from La Venta. These statues include 34 Olmec stone sculptures, including rare statues in the shape of heads, that are formed of basalt and weigh up to 24 tons. The zoo contains animals from Tabasco and nearby regions.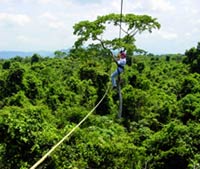 Northwest of Villahermosa lies the ancient Mayan city of Comalcalco. Inhabited between 500 and 900 AD, this unique Mayan city contains structures built with bricks made from clay, sand and oyster-shell mortar. The main structures include two pyramids, a plaza, and some surviving stucco carvings, including the mask of El Señor del Sol.

Just 18 kilometers east of Villahermosa is Yumká, a safari park that includes the three typical ecosystems of Tabasco: jungle, lagoons and savanna. You can tour the park by minivan, boat or on foot to take a close look at native wildlife found within each ecosystem.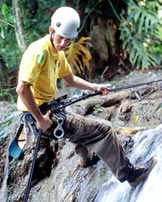 If you're looking for a wilder experience, explore the jungle reserve Yu-Balcah and catch a glimpse of endangered species such as the margay, howler monkey and great curassow. The eight kilometers of trails serve as a perfect backdrop for camping, jungle hikes, wildlife watching, biking and even soaring through the canopy.

Kolem jaá, which means "wonders of water," is a lovely ecological reserve located in Tacotalpa, at the heart of the Sierra region. This natural wonder protects a number of waterfalls (one of them 200 meters wide), a botanical garden and orchid nursery, nature trails, caves and springs of crystal-clear water. You'll commonly see people rappelling down the waterfalls, as well as camping, hiking, mountain biking, spelunking in caves, and photographing the wildlife.

The Reserva de la Biosfera Pantanos de Centla is ideal for kayaking, photography and birdwatching trips. Located at the junction of the Usumacinta and Grijalva rivers, this biologically diverse wetland reserve contains mangroves, reeds, swamps and jungle. Species found in the reserve include manatee, otter, swamp crocodile, jaguar, howler monkey, peregrine falcon and the jabirú (the continent's largest bird).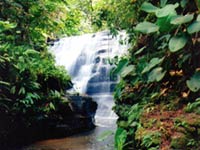 The Agua Selva nature reserve at Huimanguillo district also is the location of Malpasito, a Zoque ceremonial center. Visitors to the reserve can see the magnificent waterfalls, streams and jungle-covered hills, where it is possible to observe the tropical fauna and meet Zoque people. The reserve's El Mirador hill, at 1200 meters above sea level, provides spectacular views of jungle that stretch to the horizon. Guided trips of two to six days are available to explore the jungle.

With traditions from the past and present, Tabasco is ready-made for your next trip.To learn more about this state and the rest of the undiscovered "Mysteries of Mexico," attend the upcoming Expo Aventura y Ecoturismo in Mexico City from June 3-5, 2004. International buyers can attend the exposition at no charge.
---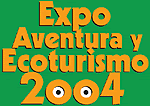 For more information about Mexico and exhibiting or attending the 2004 Expo Aventura y Ecoturismo: