| | |
| --- | --- |
| | |
| | Enveloped within the jagged mountains of the Sierra Madre Oriental, the state of Nuevo León truly has no limits when it comes to adventure and eco tourism. Connected to the U.S. border by a small strip just west of Laredo, Texas, Nuevo León is blessed with spectacular natural landscapes that include caves, canyons, lakes, waterfalls and mountains. Visitors can participate in a wealth of activities, including rock climbing and rappelling, bird watching, cave exploration, archaeology, hang-gliding and parachuting, mountain biking, kayaking and even bungee-jumping! |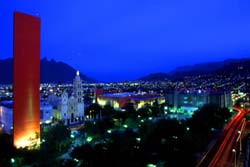 Monterrey, the capital of Nuevo León, is Mexico's second largest industrial center and third largest city, with a population of 3.5 million. You'll find a variety of tourism attractions within a short range of the city. Chief among these is the Sierra Madre Oriental itself, whose clear air, sparkling streams and unspoiled landscapes could entice any visitor to stay for a lifetime. The mountains truly define the state, with Cerro El Potosí, the state's highest peak at more than 12,000 feet (3810 m), standing guard over other spectacular destinations.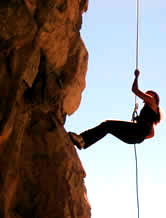 The Potrero Chico canyon, whose huge stone walls reach more than 2500 feet high, provide some of Mexico's tallest climbing walls, and are considered among the 10 best places in the world to learn rock climbing. Located 1.5 hours north of Monterrey in Hidalgo, these walls provide climbs from 90 to 1000 feet, with a range of features for both beginners (classes are available) and experienced climbers.

Located just south of Monterrey is the Parque Nacional Cumbres de Monterrey, which offers hiking, mountain biking and bird watching along well-maintained forest trails. Approximately 60 bird species and more than 120 butterfly species are found here. The 82-foot Cascada Cola de Caballo (Horsetail Falls) is a highlight of the trails.

Within the park is another of Nuevo León's most famous attractions – the Grutas de Garcia (Garcia Caves), a 16-chamber cave system accessed by a 700-meter funicular railway. Various formations of stalactites and stalagmites flank your route, and on the cave walls, you can spot fossils of shells and winkles that once were submerged by the sea 50 to 60 million years ago.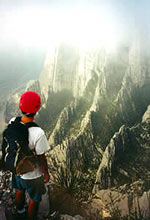 Just 16 km west of Monterrey is the dramatic 900-feet-deep Cañon de la Huasteca, where prehistoric cliffside drawings have been found. The zones of Nacataz, Icamole and Cueva Ahumada also have petroglyphs and primitive rock paintings.

The region around Santiago should be added to any adventure enthusiast's itinerary. Once a waterfall, El Salto is now an ideal rappelling descent of 125 feet in height, while the gorgeous blue Chipitin waterfalls are ideal for rappelling from more than 200 feet high. The cave system of Potrero Redondo has underground rivers spanning 1000 feet long and dotted with natural domes and running waters.

If you prefer some less-strenuous activities, consider visiting Real de Minas Viejas (The Old Royal Mines), a ranch oriented to the conservation of local flora and fauna. Located in an old mining zone where lead, silver and gold were extracted in the 17th century, you can explore the mines, go mountain biking, bird watch, or take part in astronomy and wildlife photography. Furthermore, don't miss the impressive views from the beautiful vista point known as "Volcán del Aire" (Volcano of the Air).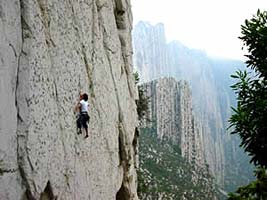 Truly, there are no limits to the many opportunities you'll find in Nuevo León. To learn more about this state and the rest of the undiscovered "Mysteries of Mexico," attend the upcoming Expo Aventura y Ecoturismo in Mexico City from June 3-5, 2004. International buyers can attend the exposition at no charge.
---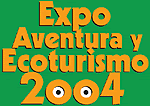 For more information about Mexico and exhibiting or attending the 2004 Expo Aventura y Ecoturismo: