| | |
| --- | --- |
| | |
| | Mexico's largest state, Chihuahua, is located along the north central part of the U.S.-Mexico border. Characterized by broad plains, rugged landscape and a rich cultural and archaeological history, Chihuahua offers plenty of exciting opportunities for the intrepid explorer. |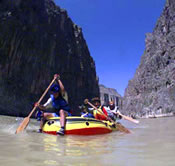 The spectacular Barranca del Cobre, also known as Copper Canyon, is definitely the "biggest" natural attraction in the state. Carved out of the Sierra Tarahumara mountains by six different rivers, Copper Canyon actually consists of 20 separate canyons. Four times larger than Arizona's better-known Grand Canyon, Copper Canyon's craggy cliffs, sheer canyon walls and deep riverbed ravines create an awesome display.

Copper Canyon is most accessible by the Ferrocarril Chihuahua al Pacífico (Copper Canyon Railway), which is among Mexico's most scenic railways and connects mountainous northern Mexico with the Pacific coast. An impressive engineering feat on its own, the railway took nearly 100 years to build and includes 39 bridges and 89 tunnels. The Copper Canyon Railway makes several stops in the Copper Canyon region, most notable of which are Creel and Divisadero.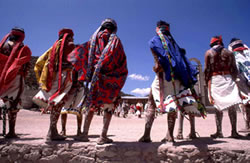 Creel serves as the regional center for the 50,000 indigenous Tarahumara, many of whom you will see in their traditional brightly-colored dress and sandals (now made out of discarded tire tread and leather straps). You'll also encounter the Tarahumara in Divisadero, when the train stops for 20 minutes to provide the first and only chance to actually see into the 1760-meter deep canyon. At either of these stops, you can stay overnight and take extended trips into the canyon, either on your own, or with a Tarahumara guide.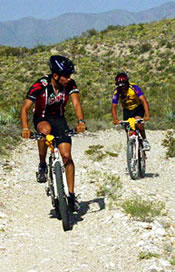 Adventurers will revel in the various opportunities to explore the region on foot, by mountain bike or even by raft and kayak. Besides Copper Canyon, other destinations of choice for these activities include Basaseachi Falls (the third-highest waterfall in North America), Urique Canyon and Huapoca Canyon, near the city of Madera. Mountain bikers will face diverse landscapes and difficulty levels, ranging from beginner's trails to dirt roads. River rafters can tackle Papigochi River near Madera, which offers grade 3 rapids; or the Urique River, located in the heart of the Sierra Tarahumara, which offers rapids of grades 3 and 4 and is navigable year-round.

Archaeologically, Chihuahua offers the magnificent history of the Paquimé people, who flourished between AD 900 and 1340, and whose adobe ruins at Casa Grandes are considered the most important archaeological site in northern Mexico. Other Paquimé ruins can be found at Cueva Grande (a cave dwelling that sits behind a waterfall in rainy season) and Cuarenta Casas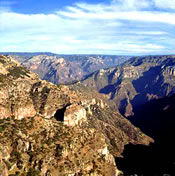 – about a dozen adobe apartments that were carved into a canyon cliffside and occupied in the 13th century. The Paquimé were great potters and created earthenware with red, black and brown designs on a cream background.


Finally, the capital city of Chihuahua features colonial buildings with plenty of history. Quinta Luz was the mansion and former headquarters of the revolutionary Pancho Villa, and now it houses the Museum of the Mexican Revolution – a must-see for history buffs.

Come learn more about Chihuahua and the rest of the undiscovered "Mysteries of Mexico" at the upcoming Expo Aventura y Ecoturismo in Mexico City from June 3-5, 2004.